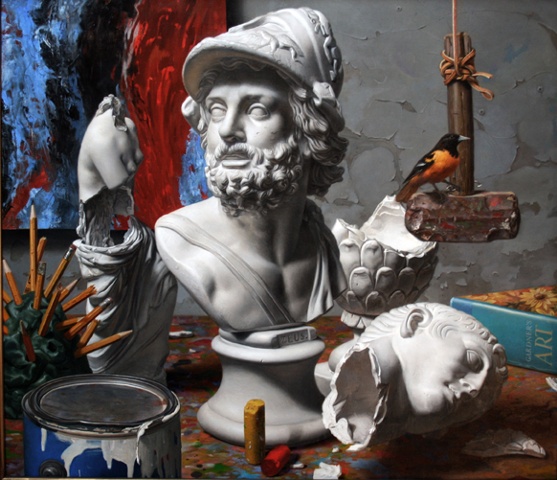 Russell Harris (b. 1970) earned his BFA and MFA from the Maryland Institute College of Art. He continued his studies at the Schuler School of Fine Art, the Art Institute of Chicago, and an intensive workshop with artist Daniel E. Greene. Harris currently resides and works in Chicago.
Harris is a versatile artist who is confident painting the figure, still life scenes, and small, complex trompe l'oeils. He has a sharp eye for the smallest details, and can render a multitude of textures with bravura. His brushwork varies between loose and expressive, to highly refined and nearly imperceptible. Harris' compositional skills show a mature artist who relies on solid structure and strong draftsmanship. Each work is carefully composed and restrained, giving each object or figure depicted a quiet power and intensity.
Harris has exhibited nationwide at The New England Fire and History Museum in Cape Cod, MA, Gallery 323 in New York City, and The Cornell Museum of Art in Delray Beach, FL, to name but a few.